When I first started my blog, one of my favorite things to share were my NYC Guides, where I talked about my favorite recommendations for things to see, do and eat here in New York! Over time, I've done less and less of them but I want to bring it back as a regular weekly series because nothing makes me happier than sharing a great recommendation in hopes that some of you might try it and love it as much as I do! So this week I'm sharing my absolute favorite brunch spots in Manhattan, because you can't come to New York and not brunch, right?
The Smile: The cute and cosy little place is on Bond St in Soho (same street where Gigi lives, FYI!) They have a small-ish menu that's comprised of yummy healthy options like oatmeal alongside some delicious baked goods from their bakery. It's quite reasonably priced and you may spot Kendall Jenner in there, like I did one time!
Penelope: I used to live right around the corner from this place and it was sinfully good! It's a really quaint little spot located in Kips Bay and even though it might be a little bit out of the way, it's well worth a trip. They make the best (literally drooling as I type this) Nutella French Toast with Strawberries, which is just as delicious as it sounds. They also make a pretty mean burger.
Union Fare: This industrial chic restaurant takes up the length of an entire block near Union Square and is renowned for it's brunch. They have a huge menu with oysters, lobsters and the usual brunch essentials like eggs, waffles and pancakes but what they're famous on Instagram for, is their crazy croissant flavors ranging from red velvet to birthday cake and everything in between. SO GOOD!
La Pecora Bianca: Located close to the Flatiron District, La Pecora Bianca is an Italian with the prettiest decor I've come across in a restaurant. I loved the pancakes when I visited but they have plenty of salad, eggs and waffle options so you're sure to find something you like. Also a really nice dinner spot.
Central Park Boathouse: Anytime I have friends or family come visit NYC, this is where I always take them. The menu has a great variety and it's a quintessential New York feeling sitting beside the pond and looking out on Central Park. It's a little bit on the pricier side but in my opinion worth it for a treat. In the Summertime it's really nice to sit outside on their deck with a cocktail.
The Butchers Daughter: The ultimate healthy brunch spot. My favorite location is the one in Soho, but be warned you will probably have to wait for a table on the weekends. All of the food is super fresh and good quality so there's no guilt associated with a feast at this place. The freshly squeezed fruit juices are also divine.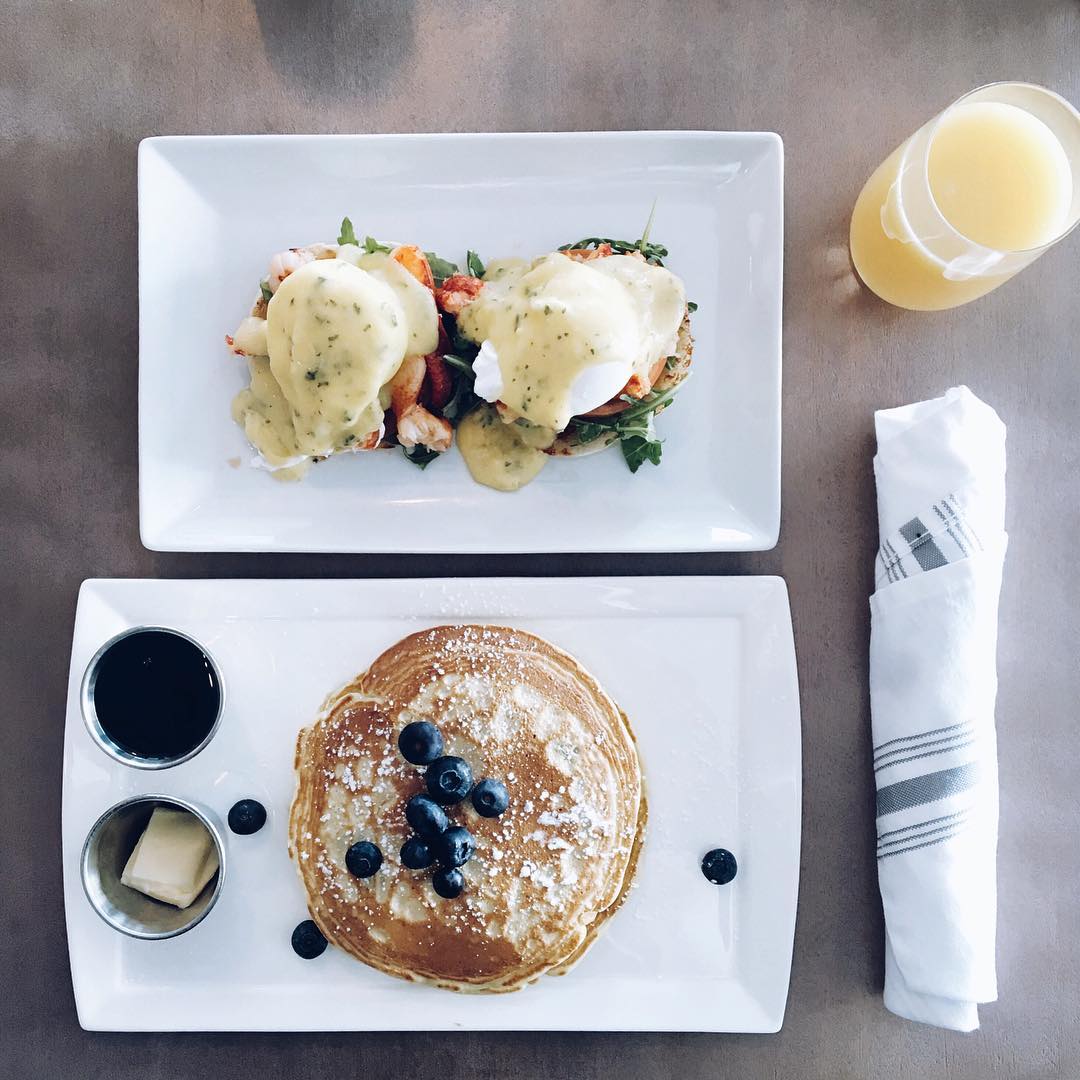 Sarabeth's: Another New York classic, Sarabeth's on the south of Central Park is a must. Again it's a little bit on the pricier side but totally worth it.  They have a huge selection of oatmeals and eggs but the Lemon Ricotta Pancakes are my favorite.
Cornelia's Street Cafe: IF you're in the West Village looking for a nice brunch spot, this is it! The food is so so good but the best part is that they have a great pre-fix menu if you're on a budget. For $25 you can get a little starter, a main, a breakfast cocktail and tea or coffee, which by New York standards is a pretty great deal!
Palma: Conveniently located right across the street is Palma, one of the cutest spots for brunch in New York.  During the Spring they fill the place with the most beautiful fresh flowers and during the Summer you can sit in their outdoor patio which is so enjoyable. Food is also delicious (again, the pancakes were my fave but what else is new!)
Buvette: This French bistro is widely known as one of the best brunch spots in the city which is why you're guaranteed a wait for a table. It's also located in the West Village. Always such a treat going here and enjoying the cosy atmosphere