Happy Thursday Everyone! I'm so excited to share part two of my Ultimate NYC Guide! Last week I shared my favorite places for brunch and today I'm sharing some of my favorite places in the city to go for dinner! The great thing about living in New York is that there's an endless amount of new restaurants to discover and even though I may try, I'll never get through them all! The thing about visiting New York is that sometimes that amount of choice can be overwhelming, so I'm hoping that you might see something on this list that catches your eye and you can be assured that it's good because it's been tried and tested by me!
Delicatessen: What I call the ultimate place for fancy comfort food! Located in Soho, Delicatessen has a humongous menu with everything from salads, to meatballs to fried chicken. You can even get different sides of flavored mac n cheese which are insanely good! In the Summertime it's really nice to sit outside here and people watch all of the cool kids that hang out in Soho and they have a killer happy hour too! (You have to try the parmeasan fries if you go here!)
Land Marc: Located in one of my favorite shopping centers, Columbus Circle, this spot is a nice high end restaurant with amazing service and delicious food. They have a great selection of steaks, salads, pasta's and entree's so you're sure to find something for everyone! The best part is the views overlooking the south west corner of Central Park. Such a treat!
Olio e Piu: This well known Italian, is one of the most beautiful restaurants I've been to in NYC. Their menu has a wide selection of house-made pastas and wood-fired pizza's that make you realize what authentic pizza is supposed to taste like! This place is also supposed to be amazing for brunch.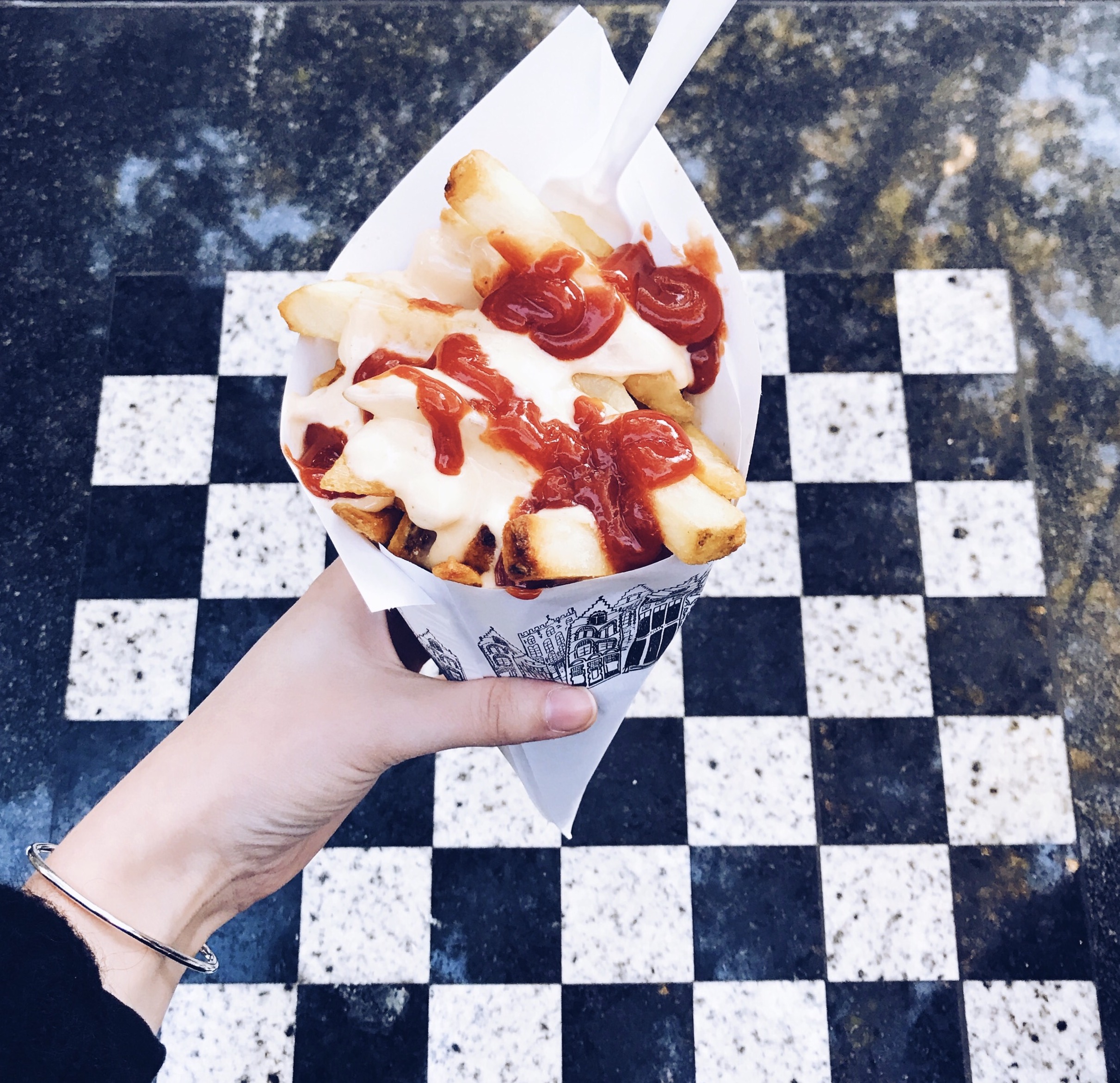 Dominique Bistro: This snug little Parisian style restaurant is the PERFECT place for a date night in NYC. The dinner menu is filled with yummy wholesome food that definitely will satisfy all of your home-cooked meal cravings. Their filet mignon was mouth wateringly good, not to mention how scrumscious the truffle fries were on the side. The boeuf bourguignon is also well worth ordering.
The Smith: My favorite place to go with a group of friends for dinner and drinks. The atmosphere is always buzzing, the food is so fresh and the cocktails are divine. There's a couple of locations but my favorite has to be the one in mid-town east. I either get the cheeseburger or the chicken caesar salad when I go and neither ever let me down!
Pomme Frites and Artichoke Pizza: So these are two different places, both located on MacDougal Street so therefore you must visit them together! Artichoke Pizza is hands down one of my favorite pizza places in NYC. If you go there though, you can't just get regular cheese or pepperoni pizza, you HAVE to get the artichoke pizza! I can't really even describe what it is but it's thick and cheesy and unforgettable. Then you have to go across the street to Pomme Frites, a restaurant that only sells french fries. You can choose from over 20 different sauces and it's one of the few places I've come across in New York that does curry cheese chips. The nice thing is that both of these places are located near Washington Square Park so you can easily grab your stuff to go and have a picnic in the park.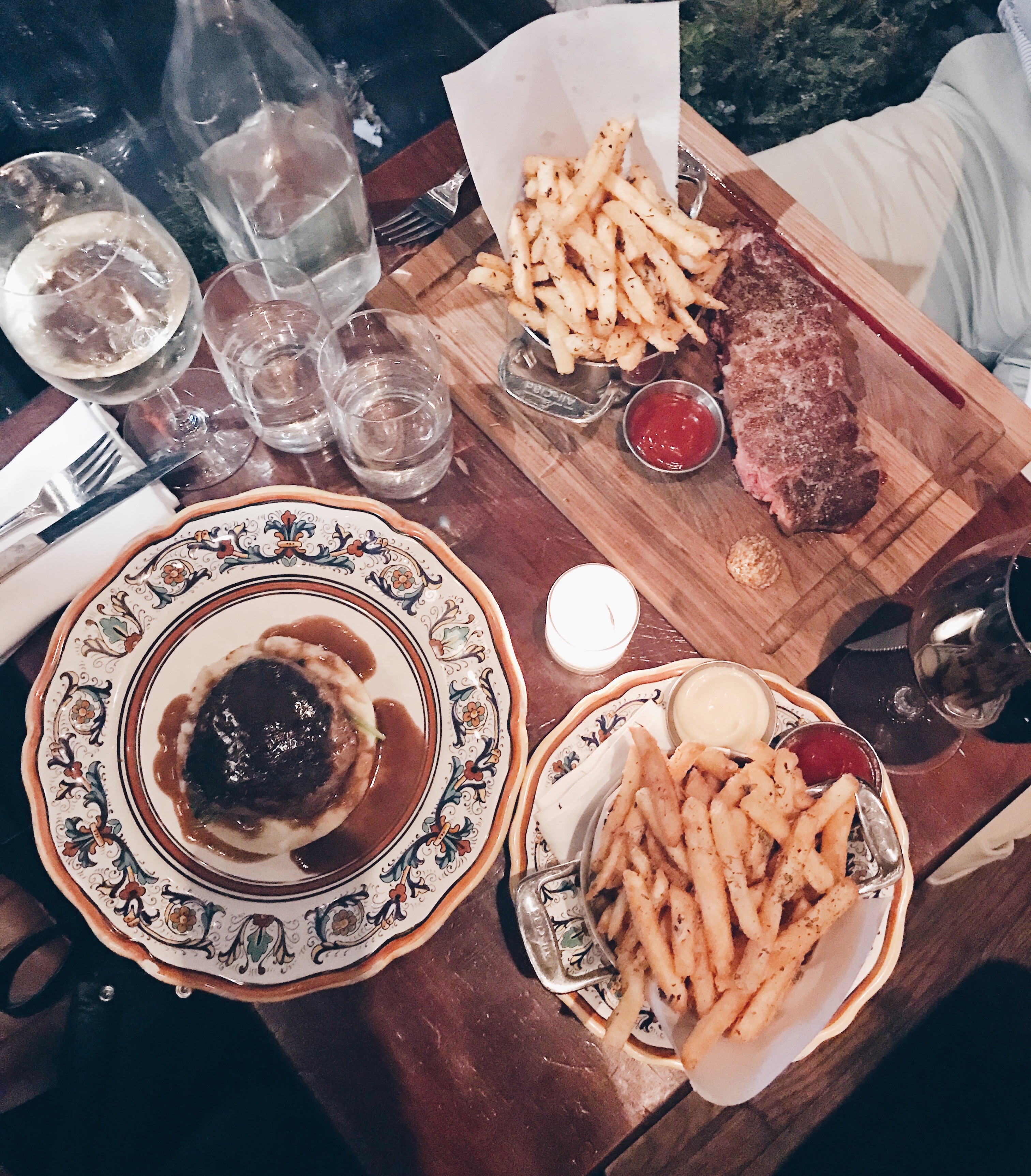 By Chloe: If you're trying to be healthy but still want yummy, comforting food then I HIGHLY suggest you visit By Chloe on Bleeker street. All of the food is healthy and vegan but just as delicious as anywhere else! Personally I'm not hugely into eating vegan, but somehow By Chloe make everything to perfection. It's also super instagram friendly AND make sure you pop into their bakery next door for a sweet treat for dessert.
Upland: I was introduced to this place one Summer when my friend Dee waitressed there, and it's so good even Obama has been known to visit. Not only is it a beautiful restaurant but the food and atmosphere are always on point. Not only does it offer a robust Californian styled menu but it also has a wine list of over 500 wines. A nice place for a fancy family dinner or date night.