Happy Hump Day Everyone! I hope your week is going wonderfully, mine has been woefully busy but it's a good complaint to have! I'm trying to finish up everything at work before my vacation home next week as well as trying to enjoy the amazing weather that NYC has been having over the past couple of days, It's making me very excited for Summer to finally arrive. Some of you might have seen my post on Instagram yesterday where I spoke about it being my two year anniversary here in New York! And I TOTALLY know it's even silly to call it an anniversary, but to me, it definitely is a little milestone to celebrate!
When I first came to New York, I flew over with my friend Jen (who broke off half of her front tooth on the way over, very funny story now but not so much at the time!), but we arrived our tiny little bedroom that I was subletting for the month until I got on my feet and we ran straight to target to get some sheets and basics to get us started. I literally remember those first few days so vividly because it was definitely one of the most traumatic experiences I had up to that point in my life, leaving my family and coming over here with no prospects and no idea what was to come was a hard pill for me to swallow. I was so thankful that Jen was staying with me for the first two nights, both of which saw me crying with homesickness for hours on end  but somehow she managed to cheer me up every morning when we ate our oatmeal in Whole Foods (I was scared to cook in the kitchen that I was sharing with two random boys and we were both broke AF!) Cathal arrived about two weeks later and I started waitressing in a cute little restaurant on Stone Street while I applied for jobs online. Having Cathal and a job helped occupy my mind a little but every night I was still struggling with my homesickness to the point where I genuinely didn't think I would last 3 months, never mind a year! I remember just trying to take it one week at a time and by the time Christmas came around I felt so incredibly proud that I had made it 6 months here. Reading that back now makes it seem like I was living in a third world country which I by no means was, but it was definitely a time of adjustment!
Two years on, things have definitely improved a little! While somedays I still battle with the occasional bout of homesickness, there's a lot to be thankful for. Cathal and I have our own apartment, a place that finally feels more homely to me. I have a job that I love going to every day and that's challenged me in ways that I never would have been able to live up to two years ago. My blog is bringing in opportunities I could never have foreseen and proving to be so much more than the creative outlet I needed back in my Biomedical Science days and finally, I feel more at peace. I no longer feel this sense of urgency to figure my life out and set a plan as to when I go home for good. For now, my family is happy and healthy and my two years of hard work is starting to pay off. I know on social media, it's easy to look at people's lives and think that they have it all together and compare your journey to theirs, but everyone's journey is bound to bring a lot of lows alongside the highs and that's why I always want to be real as I can when sharing my NYC adventure with you guys! This city is glamorous and magical and all of those stereotypical words that are used to describe it, but on the other hand it's also challenging, lonely and competitive, but once you realize that and learn how to adapt, there really is nothing stopping you from achieving your dreams in the Big Apple! So here's to the next part of my NYC chapter, may it be a little easier than the last!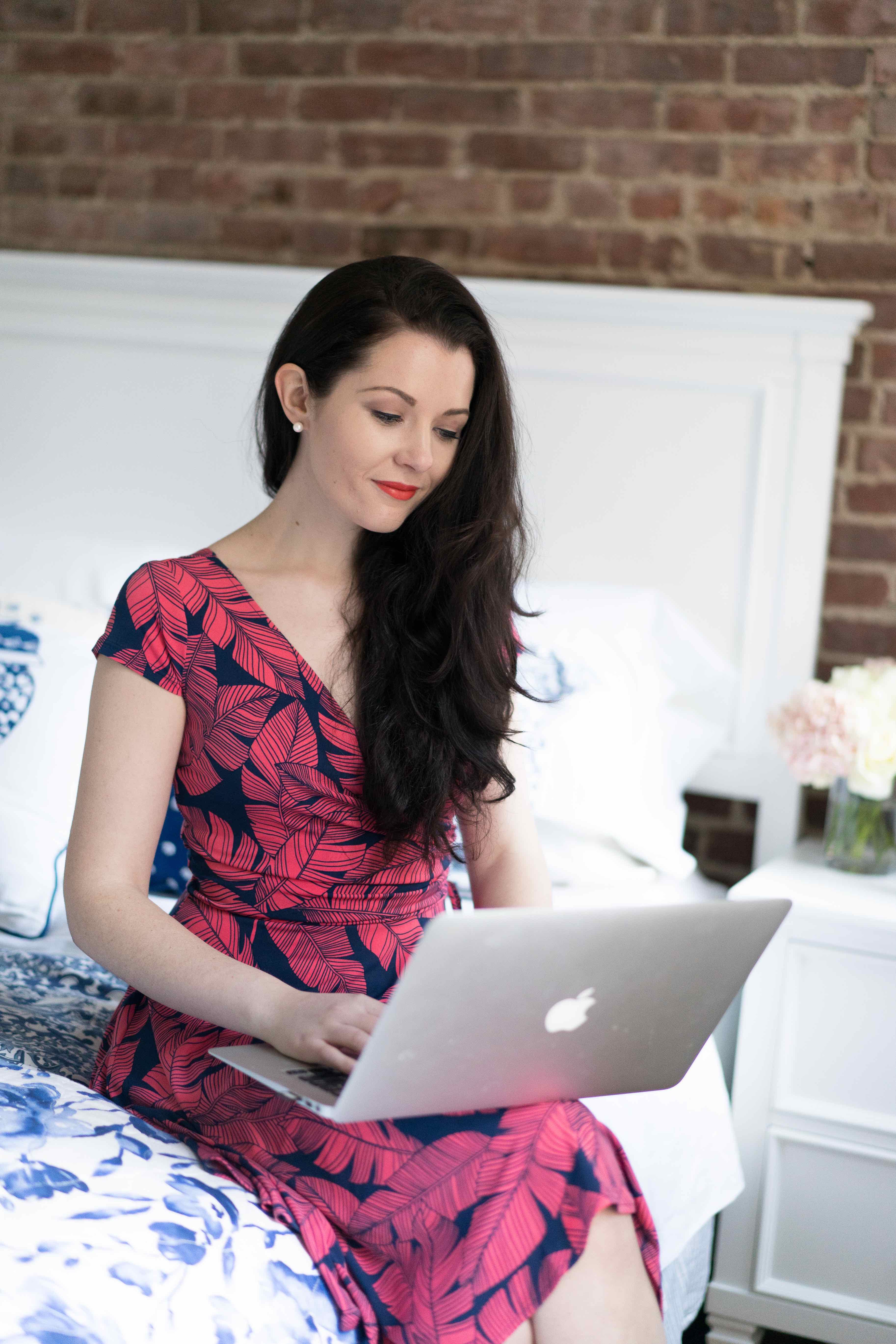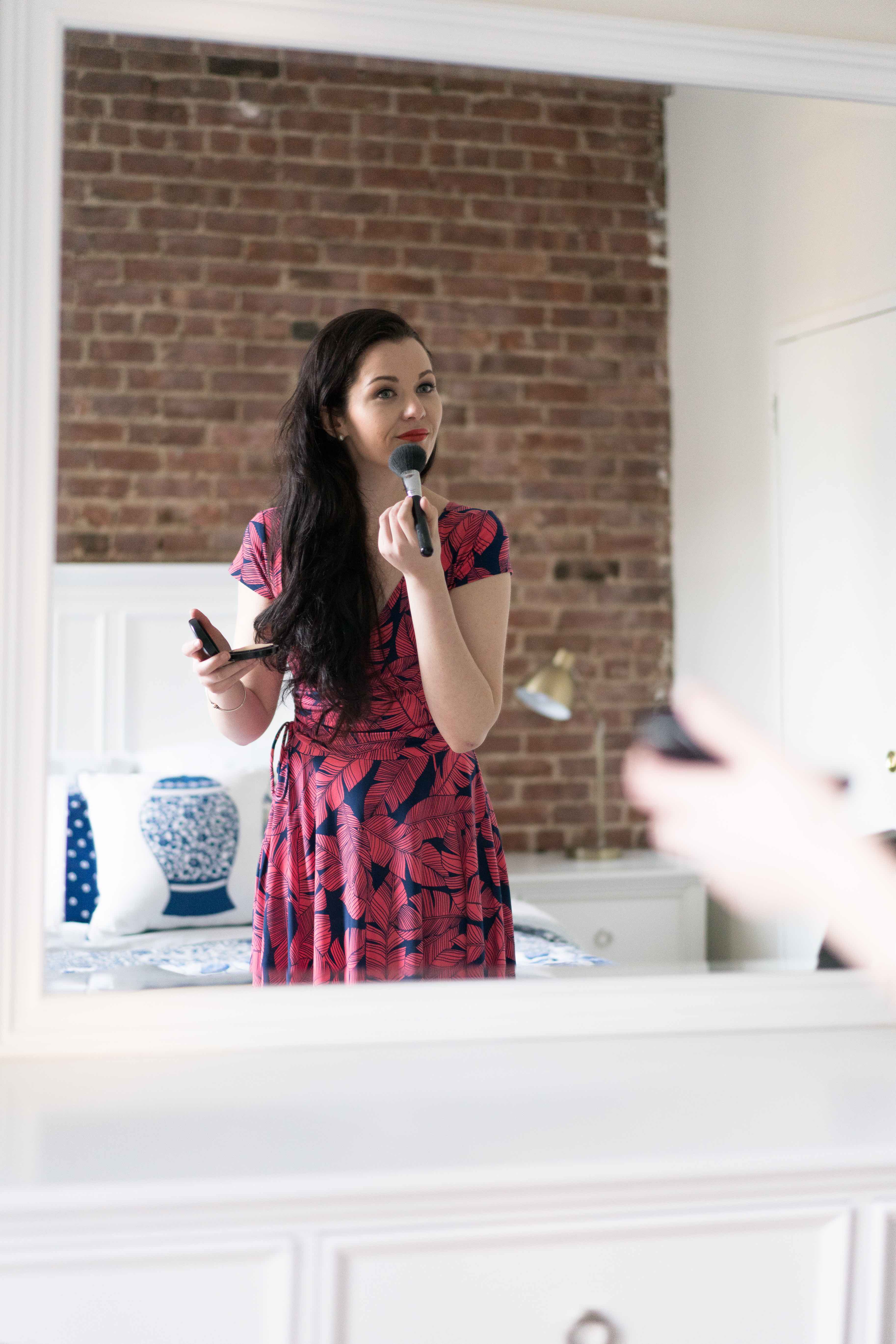 Photography: Edelle Kenny
How cute is this summery wrap dress from Maggy London? Not only is it super comfy but it's a piece that's perfectly suitable for work and also after work activities!
Thank you kindly to Maggy London for partnering with me on this blogpost!