Happy Thursday Everyone! I'm VERY excited to share my 2017 Holiday Gift Guide with you guys today! Usually every year I leave all of my present shopping to the very last minute, but this year I planned out all of my gifts in time for Black Friday so I'm on top of my shopping game this year! It's always hard to know what to buy certain people in your life, for me I find it particularly hard to buy for Cathal and my Dad which is why I love reading other people's gift guides in hopes of spotting something they might like! MY gift guide this year is super simple, 10 things for girls and 9 things for guys across all age ranges!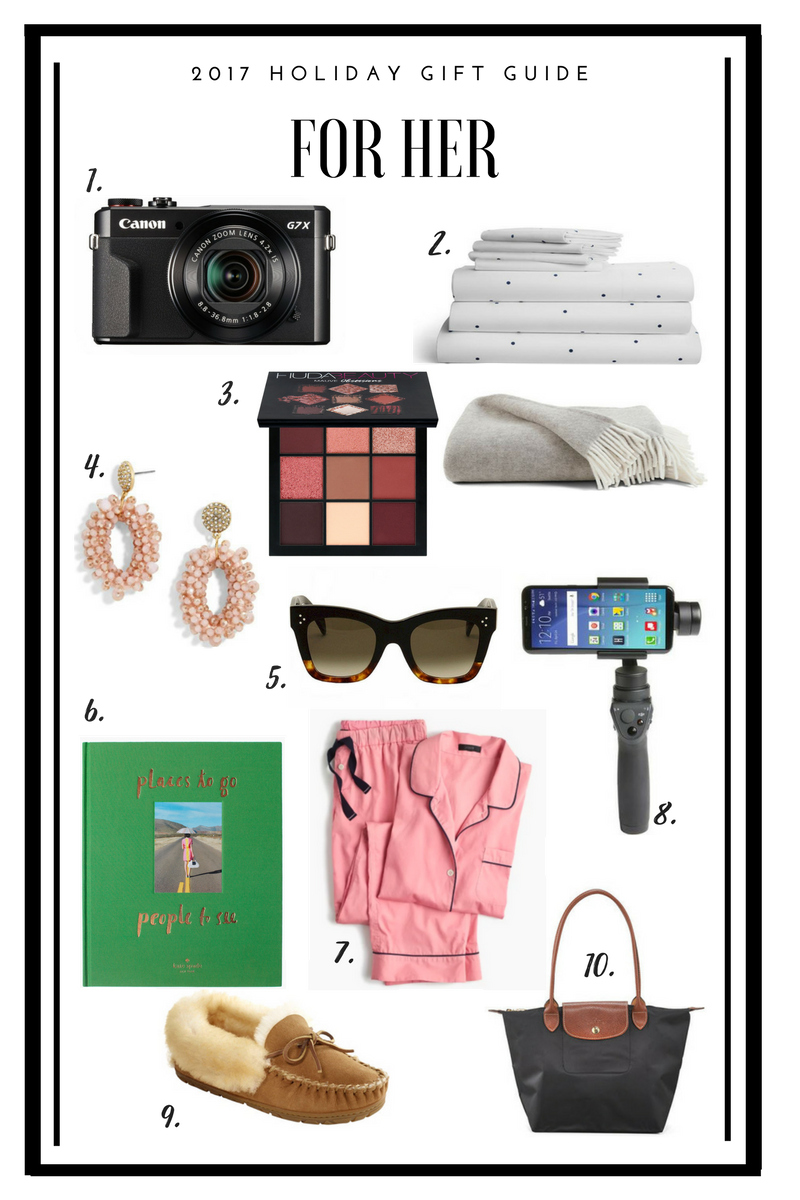 1. Canon G7X Camera: This camera is used by all of my favorite bloggers and YouTubers and is right at the top of my wishlist! Amazon have a great bundle where you can get a starter pack with SD cards, tripods and everything else you could possibly need for making great videos and taking great pictures!
2.Brooklinen Luxe Hardcore Sheet Bundle and Lambs Wool Blanket: I was recently introduced to Brooklinen through a friend at work and I am beyond obsessed! They make the best sheets that are really reasonably priced considering their quality. I love the Luxe ones because their super soft but they also have sheet sets that are made from linen or twill that are also amazing!
3.Huda Secret Obsessions Eye Palette: I've been using this palette on repeat for about a month now and I love it for a couple of reasons. Firstly it's really pigmented and lasts all day and secondly the colors work great for both a day look and a going out at night look which makes it super versatile
4. BaubleBar Earrings: LOVE these earrings! Can never go wrong with a statement piece of jewelry, especially during the Holiday season!
5. Celine Sunglasses: I recently bought my first pair of Celine sunglasses during Nlack Friday. They were 70% off so I got them for about $100 which was such a steal! I started doing a little digging to see where you could get them online for a reasonable price and I was surprised to see that Amazon has the biggest selection at the cheapest prices
6. Kate Spade Places To Go Coffee Table Book: I have this book and I literally love looking through it! Such a great statement piece for decor or a great place to find some inspiration.
7. J Crew Pajamas: A friend of mine gifted me these pajamas in white and they're so soft and cosy! And the more you wash them, the softer they get!
8.iPhone Gimble: This little knick knak looks SO cool for taking great videos on your phone!
9.LL Bean Slippers: These slippers genuinely feel like butter for your tootsies. I've had my pair for nearly two years and they're still in great shape and keep my feet so warm!
10.Longchamp Le Pliage: If you guys read this post, then you'll already know how much I love these bags! One of the best gifts I've ever received!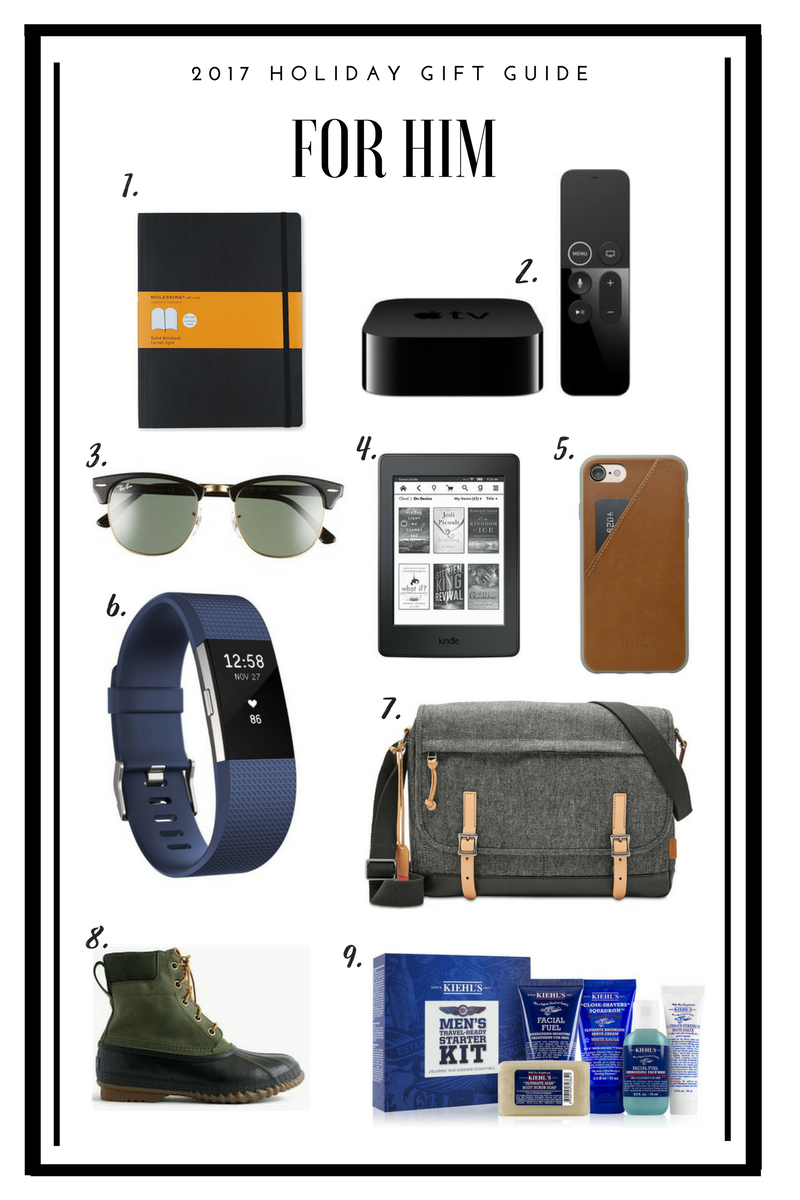 1.Moleskin Notebook: Love Moleskin notebooks for writing down all of those ideas and plans. My favorite thing about them is you can just throw them in your bag and they never get banged up or torn because of the leather cover.
2. Apple TV: In my opinion, the gift that keeps on giving! And one you'll get to enjoy too!
3. Rayban Sunglasses: I've given both my Dad and Cathal Raybans in the past and I feel like it's a gift that they've both loved! Who doesn't like a nice pair of sunnies?
4. Kindle: If you know a man who loves a good book, then I can't recommend a Kindle enough, such a great way to read books and very easy to keep it with you on the go!
5. iPhone Case: Really like this phone case because you can put your credit card in the back pocket! Perfect for a night out.
6. Fitbit: Such a great present to get. The Fitbit will help you keep track of those steps and sleeping patterns and keep you on the healthy track.
7. Fossil Messenger Bag: You can't go wrong with a nice man bag!
8. Sorrel Boots: Sorrel boots are a great gift for someone who likes outdoor adventures or if you live somewhere where it rains or snows a lot! I know Cathal gets a lot of wear out of his.
9. Kiehl's for Men Starter Kit: Kiehl's has such a great range of skincare for men from shaving cream to moisturizers to shower gel!
Hopefully you guys got a couple of ideas for some last minute gift shopping! To celebrate the festive season, I'll be kicking off a months worth of giveaways over on my Instagram starting tomorrow! So make sure you're following along so you don't miss it!