Happy New Year, everyone! This is my first post of 2019 and a very special one to kick off the year. You might have seen on Instagram that Cathal Bear and I got engaged during our Christmas trip back home. I honestly still can't believe I'm saying that because I'm STILL shocked nearly 10 days later. We'll be together 9 years next week but I swear I didn't see this coming for at least another year, maybe even two! I wanted to write down all of the things I could remember from that special day and thought I would share it with all of you guys too. I can't thank all of you enough for your well wishes over the past couple of days. I feel so lucky to have readers who are so incredibly sweet and supportive. Also please brace yourself for an extreme number of exclamation points, I got a little too excited writing this one…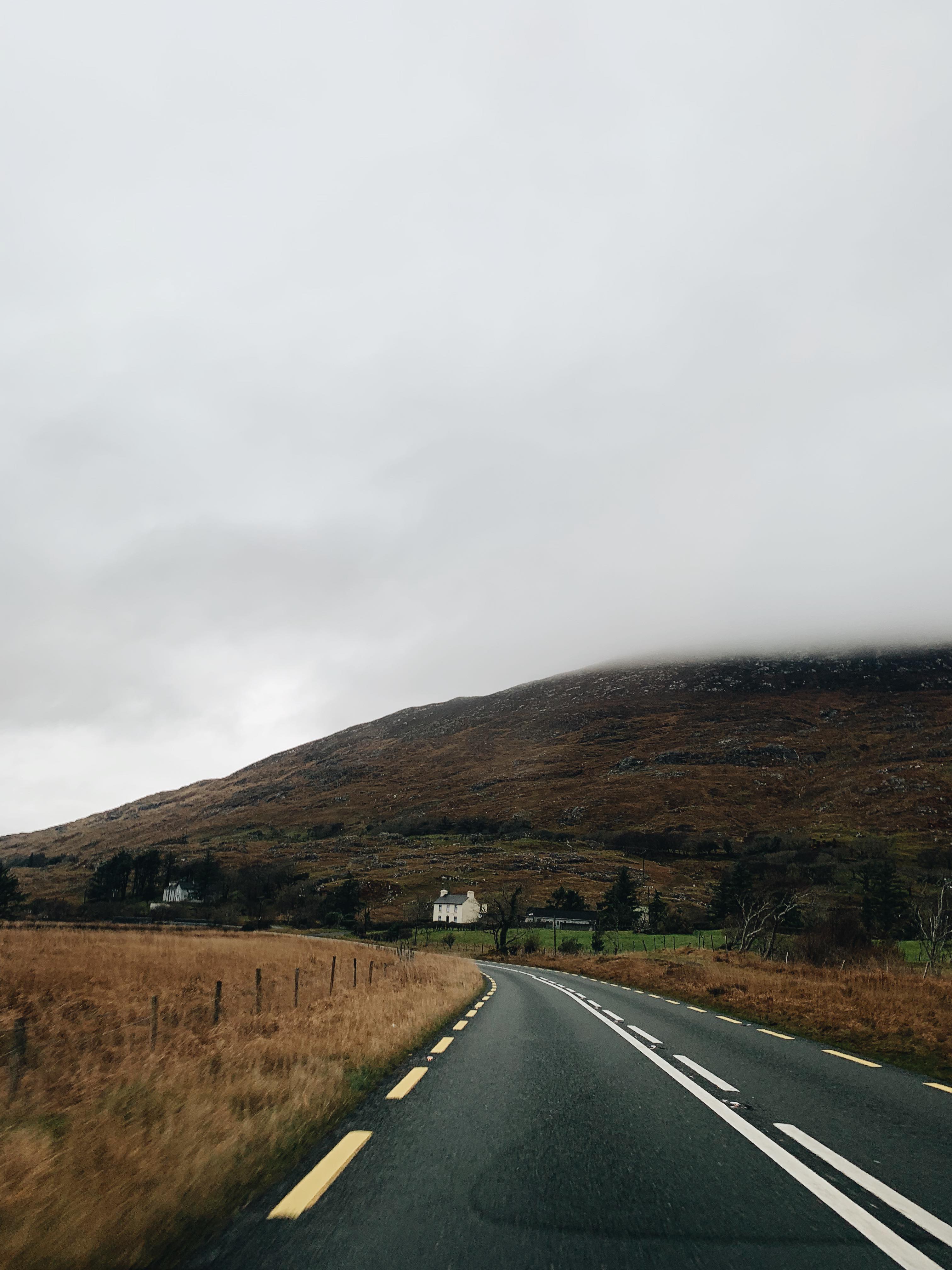 Every time we go home, Cathal and I usually go on a little day trip to see some sites and get out of Galway. This year Cathal suggested taking a spin out to Connemara and Cong on Christmas Eve before going to my sisters house for dinner which is always our Christmas Eve tradition. My Mom and I got up super early that morning to do the food shopping for Christmas before Cathal was supposed to pick me up around 10. Sure enough when we got home around 9.30, Cathal was already there sitting in the kitchen with my Dad having a cup of tea! I had no idea at the time, but he came over a little early to ask my Dad for his permission to marry me, which some might say is a little old-fashioned but it really meant the world to me.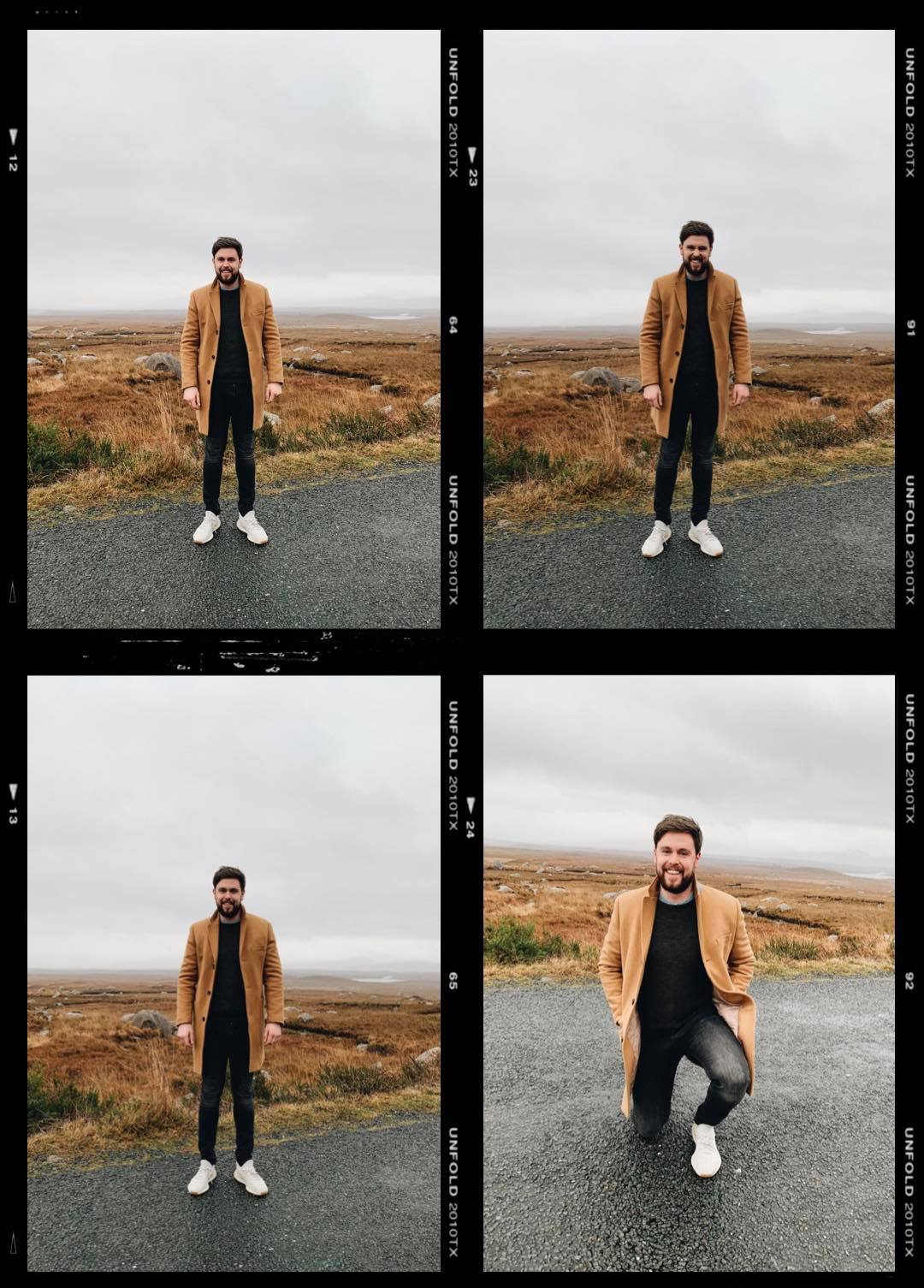 Anyways off we go on our little road trip to Connemara with me in charge of the radio, much to Cathal's delight and about an hour later we get slightly lost and end up on this tiny road with literally nothing around except some sheep and mountains. Cathal says he has to pull up for a minute to pee (so romantic and also hilarious that this is part of the story!) So he gets out of the car and goes to the trunk to get his coat, then he comes around to open my door and asks me if I'll take a picture of him because the scenery is so beautiful! Meanwhile I'm thinking to myself that this is very unlike Cathal to ask me to take his picture, usually it's the other way around! So I hop out of the car and pop my hood up because it's raining slightly and I'm taking a couple of pictures of him while joking that he better not be turning into a #manfluencer and all of the sudden he tells me to close my eyes and put my hands out. Even up to this moment, I swear I still have ZERO idea what's coming until I feel a little box in my hands at which point I think my heart dropped out of my body and I started thinking no way is this happening! I opened my eyes and saw this beautiful ring and Cathal down on one knee asking me to marry him. The poor kid, I definitely didn't give him the reaction he was looking for (crying and/or fainting)  because all I was literally able to say was "What?" "What is this?" "Is this real?" for a solid 5 minutes in disbelief! Finally Cathal said "Well is it a yes, you're making me nervous?" at which point I finally said yes and gave him a big hug and a kiss!
One of the things that surprised me the most is that Cathal didn't seem the slightest bit nervous when we were driving along and he certainly didn't give away any clues that this was about to happen. One of my favorite things about our engagement was how he really went with the flow and didn't stress too much about how he would do it. I'm also beyond glad that it happened in the middle of nowhere with nobody watching. We see people get engaged in New York all the time with hundreds of people watching them, and if that had been me I think I would probably have had a minor panic attack, especially considering how shocked I was.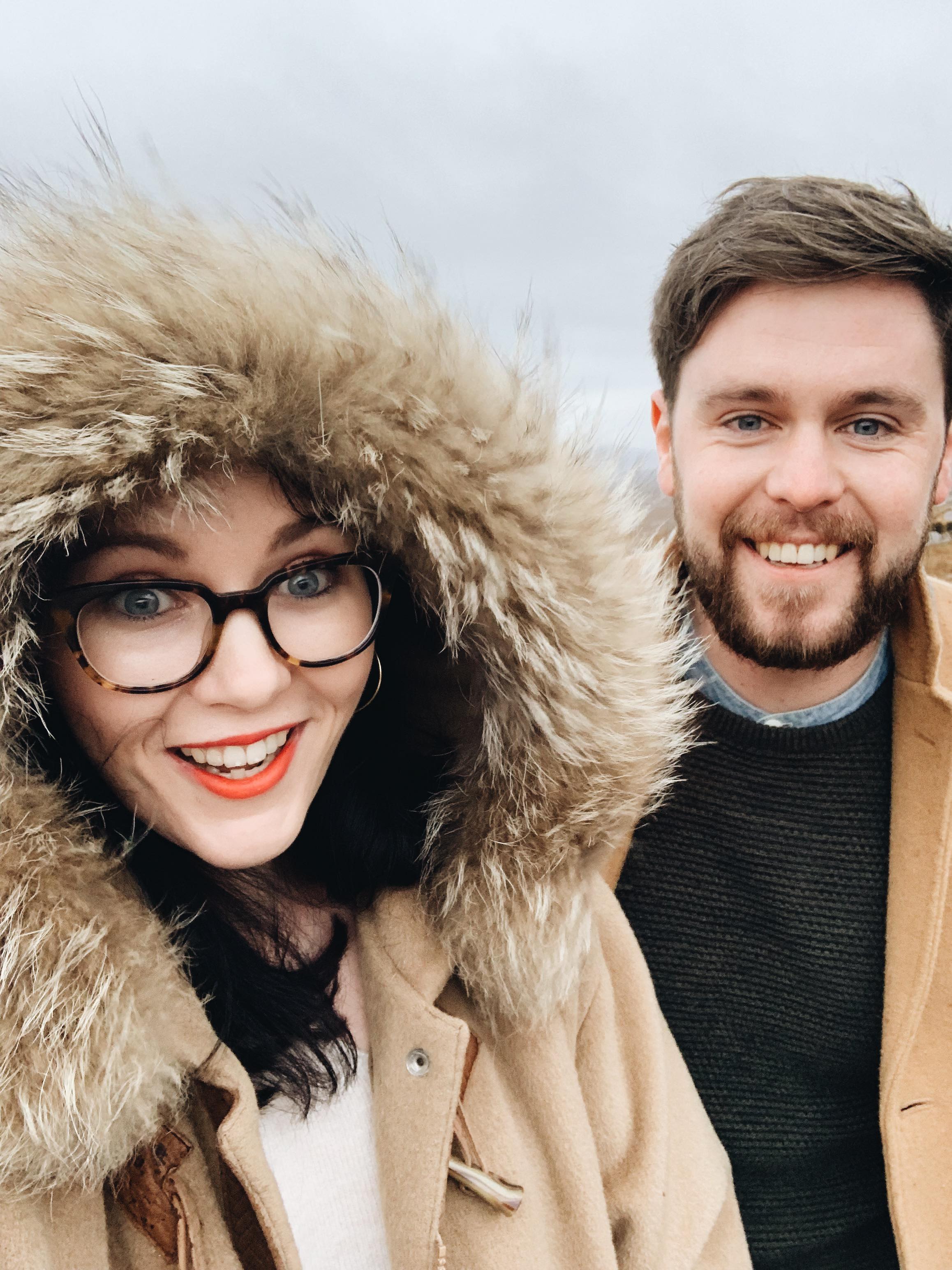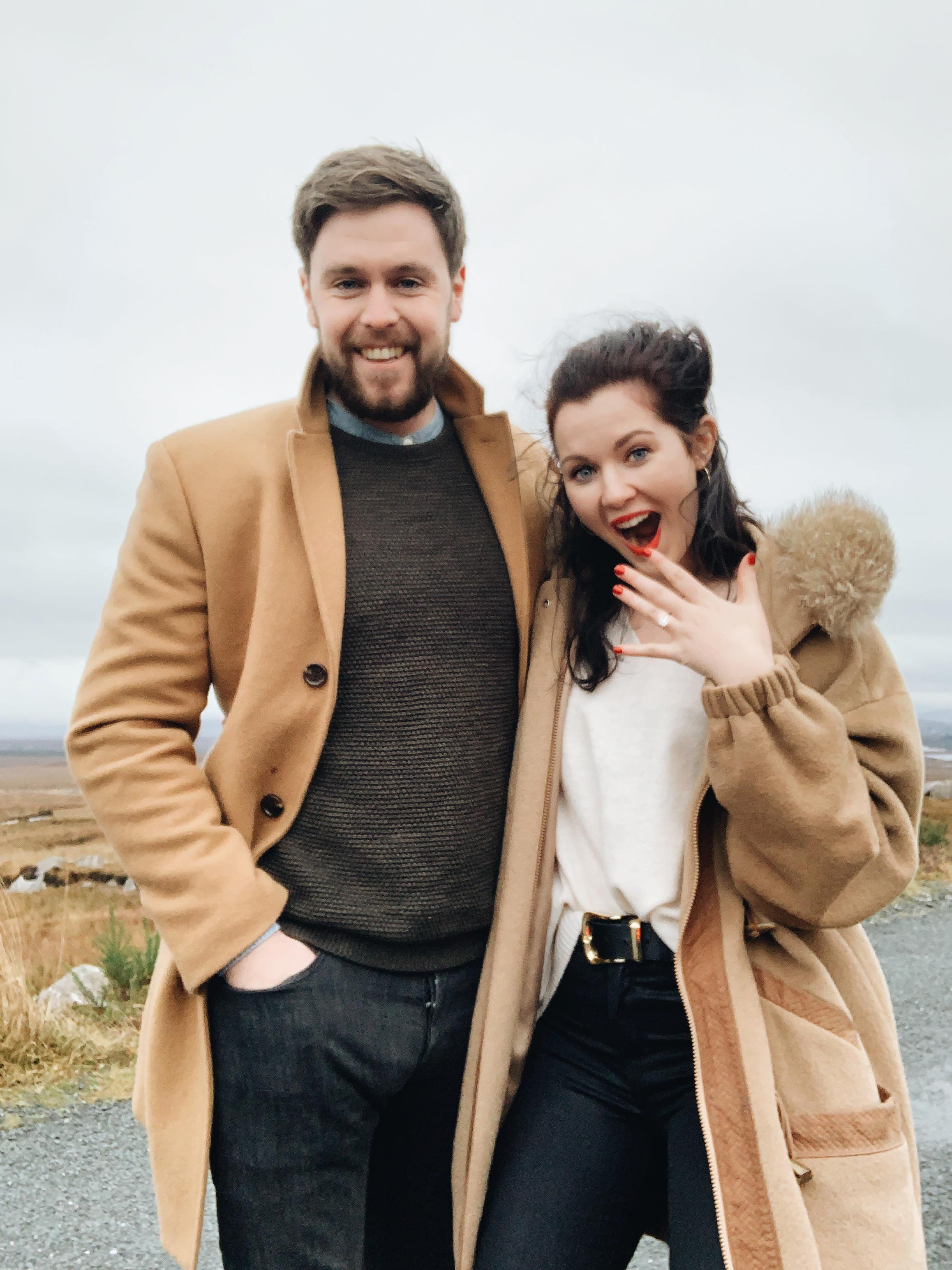 We hopped back in the car and Cathal asked if I wanted to call my parents and tell them (he then told me that he asked my Dad that morning.) I decided I wanted to wait and tell my Mom and Sister that evening when we went over for dinner, I knew they would be so shocked so really wanted to see their reaction in person Then we called Cathal's parents who were in on his plan since the day he landed home. After that it dawned on me that we needed to get a picture in the spot where it happened so we popped my iphone on the side of the window and used the self timer to grab a few different shots which I'm so glad to have! Shortly afterwards, we decided to continue driving towards Cong even though neither of us could focus on where we were going with the excitement so we got lost another 5 times. Luckily while we were driving, we saw this beautiful lookout spot where a few tourists were taking photos so we pulled up and asked them if they would take one or two for us aswell!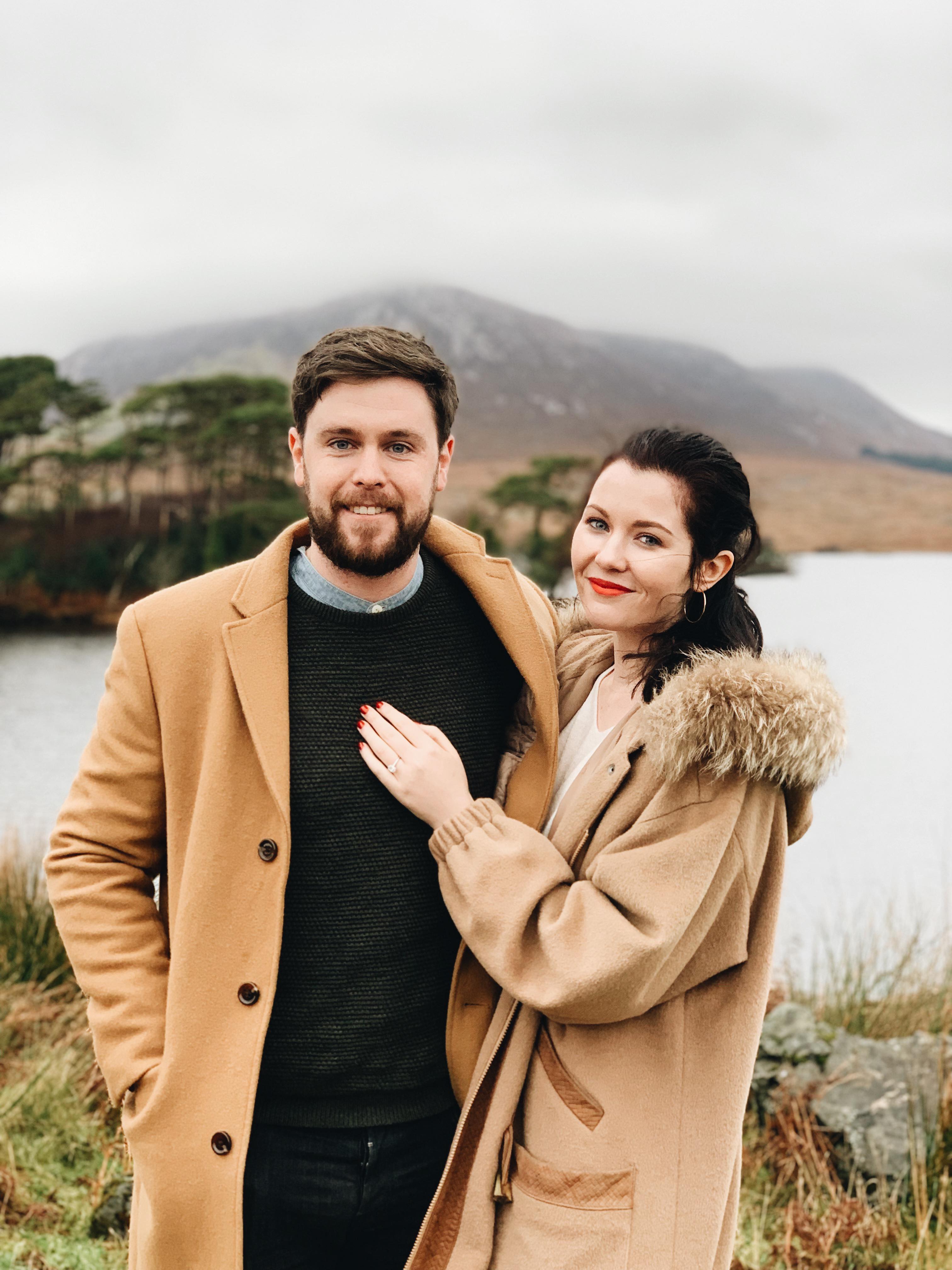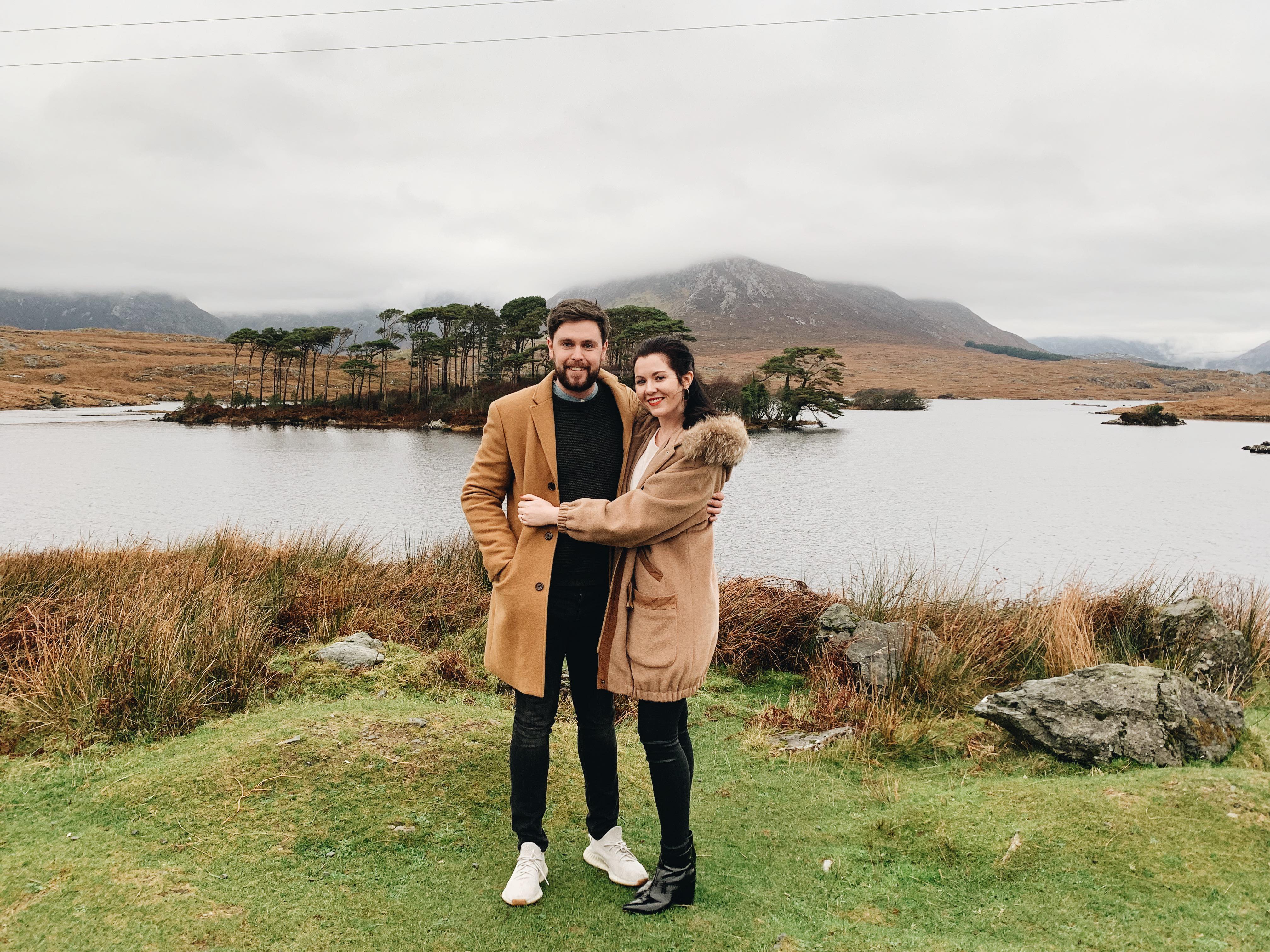 The rest of the day is a little blur, we went back to Cathal's home house where all of his family met us with a bottle of champagne and then we surprised my family after that. I think it's safe to say that nobody else really saw it coming either. One thing I'm so thankful for is the fact that we got engaged at home and were able to celebrate the day with our families, it really made the day even more perfect!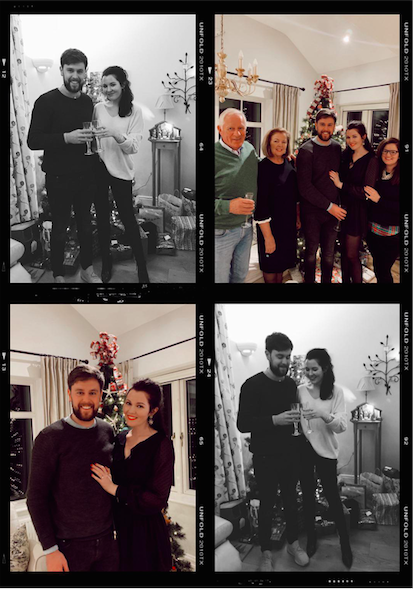 Anyways I hope you guys enjoyed reading this, honestly you probably deserve a medal for making it to the end! I've had so many questions on Instagram since my engagement that I thought I would answer some of the most popular ones here for everyone to read in one place.
Did you know it was coming?
Absolutely not, it was the biggest surprise of my entire life which really added to the excitement of getting engaged. I always hoped we would get married obviously but I didn't think we would get engaged for another two years, at the very least another year. Trust me if I had known, I would have brushed my hair that morning! But honestly, I couldn't be more excited to have Cathal as my life partner. We've been together for so many years, we've grown up together really and while of course we've had hurdles to bear along the way, we've always been there for each other! He is so incredibly supportive of me, the sweetest person you'll ever meet and just makes me smile when I need it the most.
Did a photographer take your pictures?
Nope! A lot of family and friends were sure that a photographer took the photo I posted on Instagram but we just popped my iPhone on the window of Cathal's car and used the self timer along with the remote on an Apple watch.
Can you post a close up of the ring?
This one is a little bit of a funny one for me at the moment and it might be so silly, but since getting engaged I feel a little precious about the whole thing and unsure if I want to post a close up of my ring on Instagram, for the moment at least.  I think people can be very judgemental about engagement rings, whether they think they're too big, too small, too tacky or plain boring, people aren't afraid to have a full blown conversation in the group chat about it, I've seen it first hand with my own friends commenting on others rings and I feel like I just don't want any negative energy around it in any way! I might change my mind in the coming weeks/months but in the meantime, just know that it's so very beautiful and Cathal did such a wonderful job having it made!
When and where are you getting married?
We really haven't discussed any wedding planning details but so far, we are thinking either Labor Day or Memorial Day weekend, Summer 2021 and we're thinking it will be in Ireland just because I think it would be a lot to ask our families to travel and stay in New York for a wedding. I'll definitely be sharing as much of the planning process as possible on the blog because even before this happened, I've always loved weddings so I feel like I already have so many little ideas in my head.
I'm answering questions all day long over on my Instagram so feel free to slide in to my DMs and say hi!